Parents and the Online Classroom: How to Find Support
In this article, we discuss factors that can impact on how parents are able to support their children in the online classroom, and ways they can cope with the challenges and their own mental health. 
Parents and The Online Classroom
Note: the ages of children referred to in this article are assumed to be in middle school (i.e grades 4 to 8).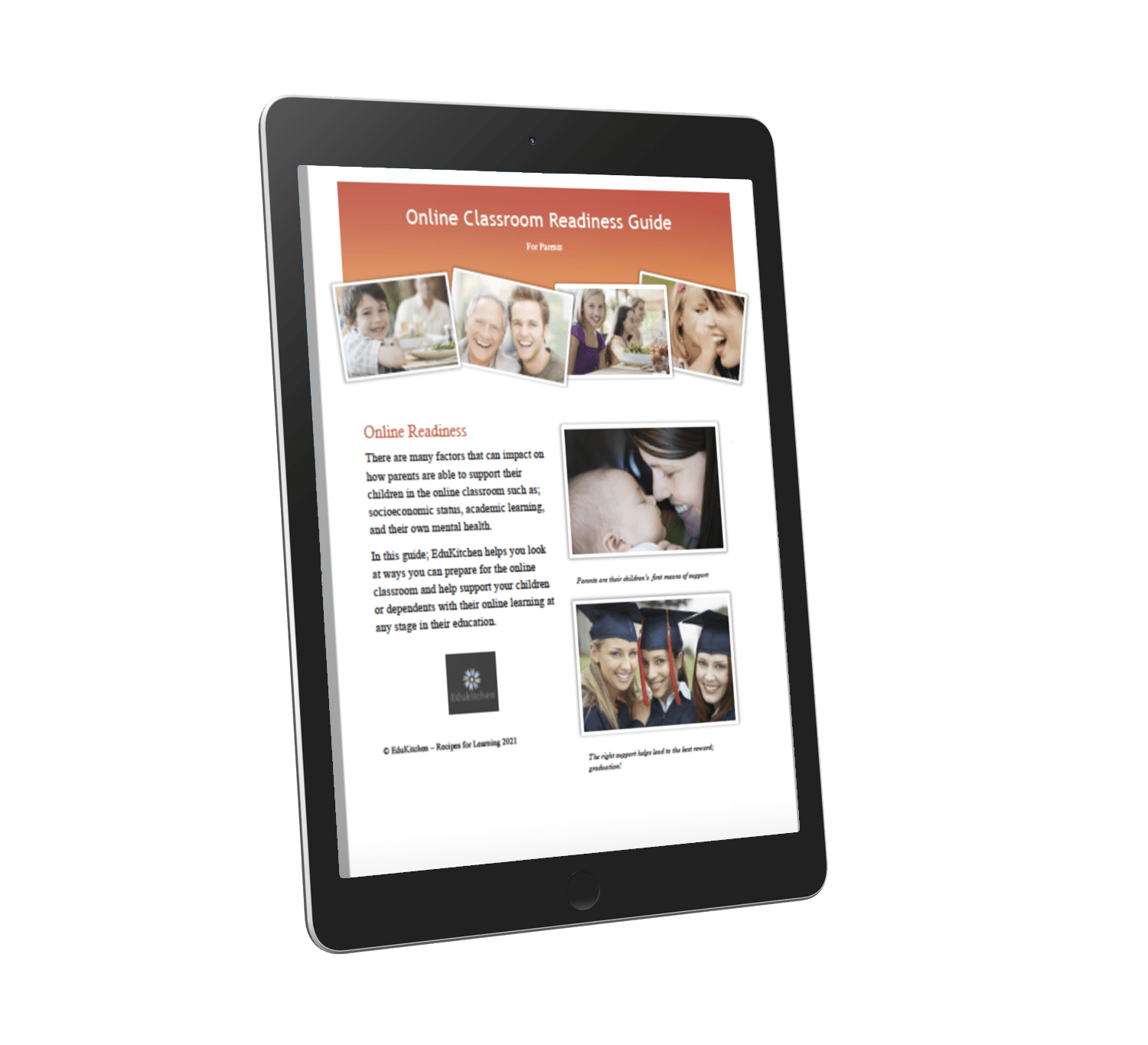 Sign up below to get your copy of this online classroom readiness guide that benefits mental health by understanding how the online classroom works.
Building Confidence with Online Classes
This blog contains affiliate links to highlighted websites and or resources. By clicking on the link and making a purchase we may earn a small commission at no extra cost to you. Click here for full disclosure.
Parents And Mental Health
How did the effects of rapidly changing policies and procedures impact on the mental health of parents? 
Mental Health, as defined by the World Health Organization (WHO), is a state of well-being in which individuals successfully cope with the normal stresses of life, enabling them to contribute productively to their community.
Now that you have watched our video, read on to see what The ETI Academy believes parents can do to cope with and help support their children with online learning.
School administrations around the world were forced to define or redefine their policies and procedures around online learning in large part due to the COVID-19 pandemic of 2020. 
This meant that the home was now the learning environment, and parents were expected to take on the role of teachers.
For some, this brought on extra stress of having to deal with changes to expectations put upon them and their children's new relationship to learning.
With parents and the online classroom,  learning how to cope with this new learning environment may result in improving the factors that may impact their child's learning online. 
Factors Impacting on Online Learning at Home
When it comes to parents and the online classroom, we take a look at two important factors, socioeconomic status and academic learning support, that may impact a parent's mental health as they try to cope with their child's new learning environment.
When it comes to parents and the online classroom, we take a look at two important factors, socioeconomic status and academic learning support, that may impact a parent's mental health as they try to cope with their child's new learning environment.
Families whose socioeconomic status may not allow for the necessary electronics to facilitate the online learning environment for their children may have struggled emotionally with not being able to financially afford such items.
Their only hope was to turn to school administrations and teachers to provide these devices so their children would not miss out on the rest of the academic school year.
II. Lack of Learning Support in the Home
In the years between pre-kindergarten and high school, parents are expected to be the academic support their children are looking for. 
They generally speaking feel that this support, could be found elsewhere for a small monetary price, right around middle school. 
There was no shame in hiring a tutor, as this would provide their child with a more optimal learning experience. But the pandemic of 2020 changed all that. Now parents were expected to provide their children with the optimal learning experience.
Parents who are stressed about these changing school dynamics may find the following tips helpful in reducing stress that can impact on mental health.
How Parents Can Support Learning at Home
Note: We recommend parents stay in constant communication with their school administration for all the up-to-date changes to their school policies involving the online classroom. 
Parents found themselves in the most unusual of places when schools were forced to close due to the COVID-19 pandemic of 2020.
Let's face it. They became the teachers they never imagined they'd be unless they signed up for it. Parents were the first to recognize the value of teachers globally!
Credit: Teacher Goals 2020
Jokes aside, parents found that balancing their work from home with the demands of the children's school overwhelming and it is ok to recognize that there were mixed emotions to say the least. 
Understanding mental health of individuals is in part learning to recognize the emotions attached to events in their lives.
Parents who are teachers may have felt overwhelmed with the sudden change, and so it goes without saying that parents who aren't professional teachers may have struggled with this sudden change even more. 
I. Use The Right Learning Support Tools
We believe that in educating students, we must also include a little entertainment to keep students entertained.
II. Connect With Other Parents
Strengthening the relationship between parents and the online classroom starts with finding support. 
Parents can reduce their stress by reaching out to other parents in finding the emotional support they need in knowing that they are not alone. 
They can reach out to connect with other parents through social media, or phone calls. The right emotional support can do wonders for one's mental health.
III. Provide Necessary Emotional Support
Children may find it bothersome how their time on electronics is more for educational purposes rather than just for fun. 
When parents offer a good example in dealing with their children's frustrations with online learning, their child will learn by example at how to deal with difficult situations! 
Proper interactions between parents and the online classroom, can be the emotional support children are looking for. 
 By providing their child with emotional support and encouraging words for being able to concentrate on learning while looking at a computer screen all day, parents set the example for healthy minds. 
IV. Connect With Your Child's Teacher
Support for teachers navigating online classrooms, really benefits the students, and parents themselves. 
The understanding shown between parents and the online classroom, means parents can connect with their child's teacher, which brings comfort to bother teachers and students. When we do good for others, we also reap the rewards. 
V. Be A Positive Role Model
Life will be full of challenges and having the right mind set will help to maintain a good level of mental health. Parents best educate their children when they lead by example in speech and in actions. 
Just remember, even when it's not going your way, just say "It's going to be a good day!" You will come to see then, it really is going to be ok. 
VI. View Your Child's Progress As A Team Effort
By working together, school administration, teachers, students and parents can be the support that the others need. 
In considering these groups as one happy online family, it will allow for everyone to reach the common goal; healthy minded students, who believe in themselves enough to be able to form their own identities, goals in life, and eventually families, to which they can be the support their children need in the future.
Personal Note from the Founder of EduKitchen
I myself am a teacher with children, and so I write to you as a teacher and a mom. Both teaching and becoming a parent are something I chose, and so I find that the right mind set is also a necessary component of good mental health. 
I had not taught online before 2020, and like so many other teachers, I found it challenging. 
However, I chose to have the right mind set to teaching online and for that I continue to look for the beauty in teaching. 
From one parent to another, I hope you find some of that beauty if you were taking on the teaching role in your family.
Let us hear your thoughts on our recommend ways parents can cope with the online classroom.