Promoting Physical Health in Education
In this article we look at the 5 reasons why keeping up our physical health is important for our mental health. 
How Physical Health In Education Benefits Mental Health
Physical health in education allow for students to take a class where physical activity is encouraged either through sports or phsyical exercises.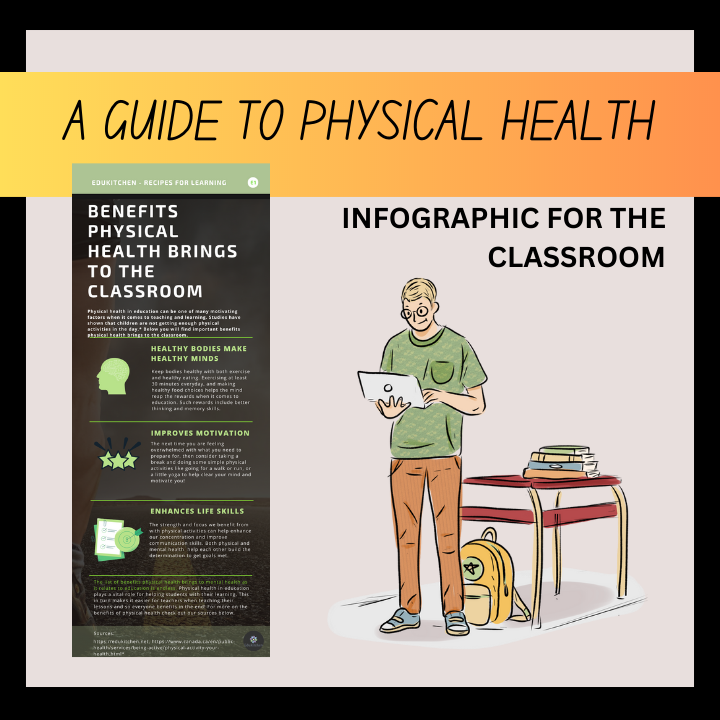 Sign up below to get your copy of this infographic that benefits mental health by understanding the benefits of physical health.
Click here to view this digital product on The ETI Academy Shop! 
Advocating for Physical Health
This blog contains affiliate links to highlighted websites and or resources. By clicking on the link and making a purchase we may earn a small commission at no extra cost to you. Click here for full disclosure.
The Connection to Mental Health
In keeping our bodies healthy, we are keeping our minds healthy which helps in its connections to education through teaching and learning.
Physical health in education can be one of many motivating factors when it comes to teaching and learning. 
In keeping our bodies healthy with the choices of food we eat and the exercises we do, we can greatly increase our ability to understand and benefit from what we are teaching or learning. 
One down side to online classes is the limitation it brings to physical movements that can bring the much needed break to keep motivation levels higher. 
We look at 5 important reasons why our physical health and the choices of food we make can be ways to greatly improve our academic success in reaching our educational goals.
#1 Healthy Bodies Makes for Healthier Minds
In order to stay physically active, you need to consider choosing the right foods in keeping your body healthy. Foods that keep us feeling fuller longer, help to give our minds the energy it needs to stay focused on our teaching or learning goals.
These foods come from the four main food groups; fruits and vegetables, whole grains, meats and protein, and dairy, Many health professionals will tell you that food is fuel for the body. It is this fuel that helps keeps our bodies healthy, and our minds ready to gain knowledge and opportunities in reaching our educational goals.
#2 Physical Exercise Improves Motivation
There are plenty of scientific articles to prove the point that physical exercise really benefits not just the body but the mind as well. 
 The next time you are feeling overwhelmed with what you need to prepare for, then consider taking a break and doing some simple physical activities like going for a walk or run, or a little yoga to help clear your mind. You will find new energy and motivation as signs you are ready to tackle teaching or learning once again.
Break times and sports classes are a necessary part of education and unfortunately sometimes these are seen as privileges that students may lose in order to make up for work they missed. 
Instead of having students associate physical activity with punishment, in either losing the chance to participate or exceeding the amount of physical activity, consider having eventful discussions about physical health around why good behavior is important to physical health.
#3 Strong Physical Health Helps Us Stay Focused
The focus we need when we are staying physically active is the same focus we need when we are teaching or learning.
Find the time to go for a walk for some fresh air, or quiet time doing  simple yoga movements to regain that focus you need to stay motivated.
#4 Improving Physical Health Leads To Better Thinking Skills
When we use physical exercises to help improve our focus, this can lead to keeping our minds focused as well. 
This helps with the academic skills that we use such as problem solving in maths, planning, and organization our English assignments to help make communicating our teaching and learning goals easier.
#5 Strengthening Physical Health Helps With Communication
We understand that when we play physical sports as teams, we needs to have good communication skills to become successful as a team. This same logic applies to using good communication strategies in the classroom that makes teaching and learning a more enjoyable experience for everyone.
Physical Activities and Online Education
Unfortunately many students lose their motivation when their chances of physical activity are reduced, particularly in the online classroom. 
Teachers can work with students to keep their motivation levels up by pausing during the online class to conduct a stretching break, or if that's not possible, to break for a fast paced thinking game that could at get them exercising their brains!
Parents looking to balance online learning with offline activities, can also make time for their children to do fun physical activities that are easy to do.
Does cleaning the house count as physical activities? 
Connect to our other pages as you navigate through our website. Explore what these pages have to offer you and you will be glad you did!
Physical health in education plays a vital role for helping students with their learning. This in turn makes it easier for teachers when teaching their lessons. EduKitchen shares with you a free information poster to display in classrooms as to the benefits physical health brings to any classroom. 
Let us hear your thoughts on our 5 reasons why physical health is so closely connected with our success in education and whether you agree or disagree with our reasons.