Build Critical Thinking Skills Through Creativity
In this article, we answer this question by presenting five ways to building critical thinking skills as an important life skill. 
How To Improve Your Critical Thinking Skills
Welcome to our kitchen to classroom series where we will look at five topics in which the kitchen inspires education. This article will focus on the importance of critical thinking skills when it comes to learning in the years of middle school education and beyond.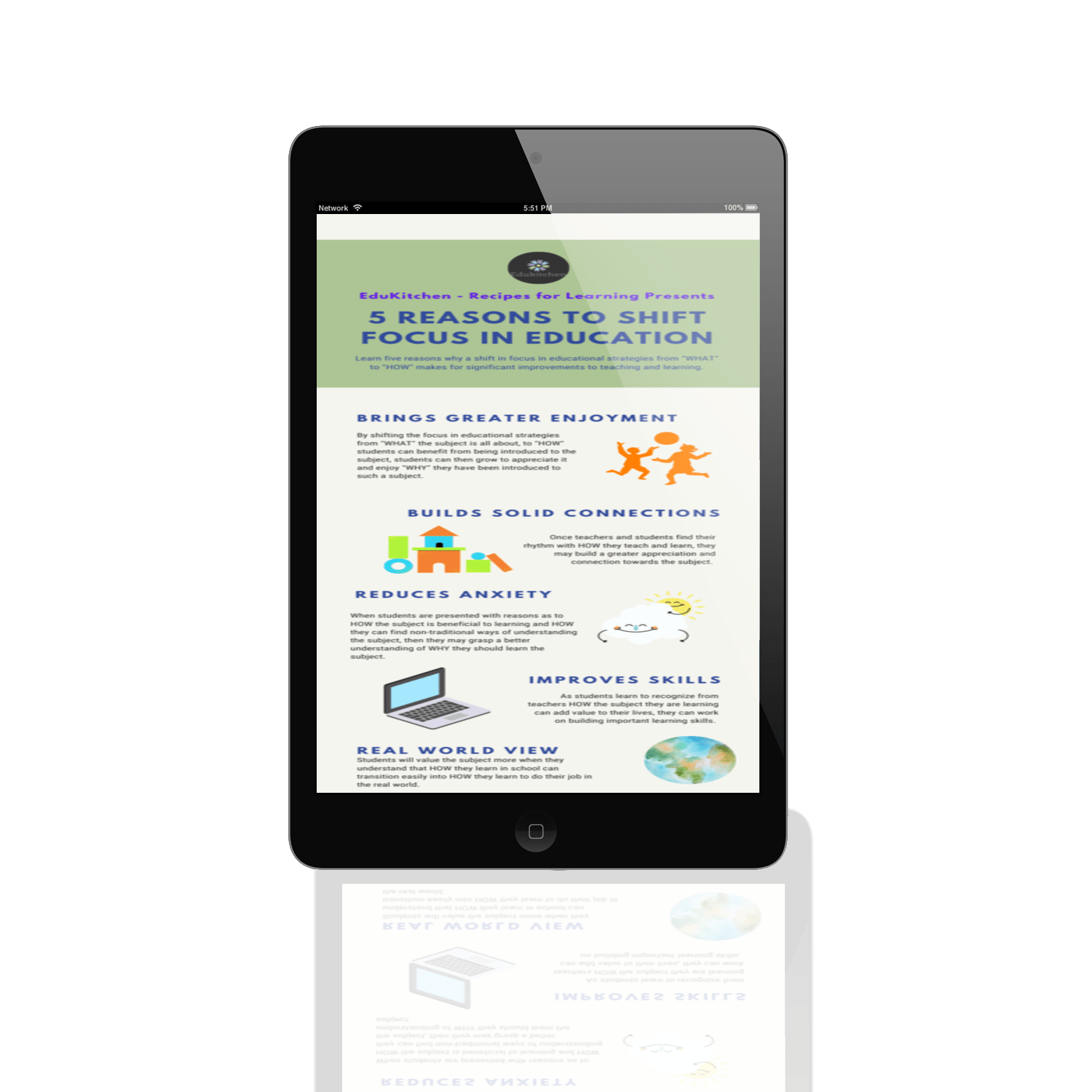 Sign up below to get your copy of this infographic that benefits mental health by having teachers and students shift their focus when it comes to critical thinking. 
The five ways are:
Read more
Do more
Ask questions
Get creative
Express yourself
Get a sneak peak at how to  build your critical thinking skills and confidence by watching this video below!
What Does 'Critical Thinking' Mean?
These skills meant to encourage new ways of thinking to bring about new insight to knowledge.
Critical thinking skills simply means to use your own objective (open) approaches to asking questions or challenging what is before for your own level of understanding. 
How to Think Critically from Kitchen to Classroom
In learning how to cook or bake, we are building our critical thinking skills! 
Being able to skillfully understand how to put together a food recipe so that everything comes together peacefully and smoothly, allows us to learn and follow along. 
Building Critical Thinking Skills Video
Watch this video below to see how thinking skills we learn in the kitchen can help build critical thinking skills in the classroom.
Improving your critical thinking skills will also have a liberating effect on how you study. 
When you learn how to study, you will find it takes away the pressures you feel in trying to achieve those top scores success in school. 
Inside and outside the classroom, people will see that improving their critical thinking skills will help with organizing, problem solving, and understanding what needs to be done to get assignments or projects done on time.
Build Critical Thinking Skills While Having Fun
This blog contains affiliate links to highlighted websites  to help master math skills. By clicking on the links and making a purchase we may earn a small commission at no extra cost to you. Click here for full disclosure.
Ways To Build Your Critical Thinking Skills
We now look at the five ways to build your critical thinking skills to help make life more enjoyable inside and outside the classroom. 
First, you will have to step away from social media and reconnect with the world around you.
When we read, we gain knowledge, vocabulary, and new understanding that we may not have had before.
As we read, we begin to formulate our own thoughts and opinions as to what benefits we have gained after reading.
Reading not only benefits our mind, but it benefits us in how we share what we learn with others by allowing us to engage in meaning dialogue that can benefit everyone.
In gaining this new knowledge through reading, it can help us think about ways we can do more in sharing what we learned. 
By doing more to keep ourselves interested in the world around us, we can gain new insights, thoughts, and opinions as to what is happening in the world we live in. 
We need to do more so we can take charge of our own thoughts, and not just go along with what others tell us based on what they are doing. 
What are some ways we can do more?  
Get involved with helping your family, friends, neighbors, or community in giving your time in service or in advocating for good changes.
Asking questions that help us grow in learning are one important way in building our critical thinking skills. 
In building your critical thinking skills, it's important to think about why you are asking the questions you want to ask. 
The main reason to ask questions is to gain knowledge, and another reason may be to help others understand when they are not able to ask the questions.
Don't be afraid to ask questions. 
You can get creative in many different ways. If you are into the arts, you can show your critical thinking skills through the art you produce.
If you are into the sciences, you can show your critical thinking skills through the projects you build. 
There are ways to express who you are that make people want to listen. 
When you use your critical thinking skills in the right way in expressing yourself, others will learn and benefit from what you have to say.
Remember, words matter, so choose your words carefully!
Connect to our other pages as you navigate through our website. Explore what these pages have to offer you and you will be glad you did!
I hope you enjoyed reading this article and found it useful for building good critical thinking skills that will help with your educational goals in learning for years to come!
Leave us a comment below to let us know your thoughts on our ideas on the importance of building your critical thinking skills in education.